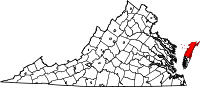 Accomack is one of the 133 counties in the state of Virginia. Formerly "Accomack Shire", it was formed in 1634, making it one of the state's eight original "shires". In 1642, the name was changed to Northampton County, to remove "heathen names" from territories. In 1663, the county was split in two, with the northern part becoming Accomack County, and the southern retaining the Northampton name. As of the 2010 census, the population was 33,164, down from the all-time high of 38,305 at the 2000 census. Its county seat is Accomac, and the largest town is Chincoteague. Accomack covers 1,310 square miles (3,393 km2), but only 450 square miles (1,165 km2) is dry land. It is bordered by Northampton County to the south, Somerset County, Maryland to the northwest and Worcester County, Maryland to the northeast. To the east is the Atlantic Ocean, and to the west is Chesapeake Bay, with the remainder of Virginia on the far side.
Ad blocker interference detected!
Wikia is a free-to-use site that makes money from advertising. We have a modified experience for viewers using ad blockers

Wikia is not accessible if you've made further modifications. Remove the custom ad blocker rule(s) and the page will load as expected.