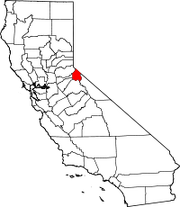 Alpine is one of the 58 counties in the state of California. It was created in 1864 from parts of Amador, El Dorado, Calaveras, Mono, and Tuolumne counties, due to a discovery of silver just over the border in Nevada. When the county was formed, the population was over 11,000, but the local silver mines dried up quickly, and by the end of the decade the population was under 1,000. As of the 2010 census the population was 1,175, down from the all time census high of 1,208 in 2000. This makes Alpine the county with the smallest population in California.

The county seat and largest city is Markleeville. The county is landlocked in the Sierra Nevada mountains, with an average elevation of over 5,000 feet. Alpine is comprised of 743.19 square miles (1,924.9 km2), of which 738.62 square miles (1,913.0 km2) is land. It is bordered on the northwest by El Dorado county, the west by Amador County, on the southwest by Calaveras County, on the south by Tuolumne County, on the east by Mono County, and on the northeast by Douglas County, Nevada.
Ad blocker interference detected!
Wikia is a free-to-use site that makes money from advertising. We have a modified experience for viewers using ad blockers

Wikia is not accessible if you've made further modifications. Remove the custom ad blocker rule(s) and the page will load as expected.