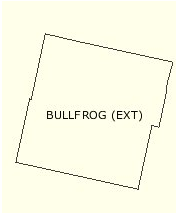 Bullfrog is a defunct county that existed from 1987 until 1989. The area was entirely locked by Nye County, and was designed to house nuclear and radioactive waste product often stored in the county's southern section. Three-fourths of the county was owned by the government, the other quarter was a public center, but very few people actually visited the area. The county was deemed in violation of the state's constitution and dissolved in 1989.
Ad blocker interference detected!
Wikia is a free-to-use site that makes money from advertising. We have a modified experience for viewers using ad blockers

Wikia is not accessible if you've made further modifications. Remove the custom ad blocker rule(s) and the page will load as expected.