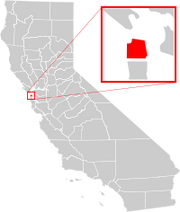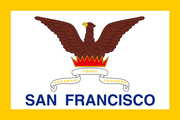 San Francisco (Spanish for "Saint Francis" of Assisi) is one of the 58 counties in the state of California. It was created on February 18, 1850, making it one of the original 27 counties of the state. As of the 2010 census, the population was 805,235, up from 776,733 in 2000. The 2014 estimated population is over 830,000 making San Francisco the second most densely populated county in the U.S. after New York.
 Location and Population
Edit
San Francisco is the only consolidated city-county in California. The county has 231.89 (600.6 km2) square miles of area including water, only 46.87 (121.4 km2) square miles are land, making it easily the smallest and most densely populated county in the state. San Francisco sits on a peninsula surrounded on three sides bay water with San Mateo County to the south conecting it to the mainland. The Golden Gate Bridge connects San Francisco to Marin County in the north, and the Bay Bridge connects to Alameda County to the east. San Francisco is one of the nine Bay Area counties.

San Francisco's motto is "Gold in Peace, Iron in War". Thus the cities' official colors are Gold and Black.
Historical Note
Edit
A little known fact is that the city of San Francisco was originally part of San Mateo County. However due to corruption and the nitorious barbarry coast in San Francisco which hosted casinos and prostitutiuon, city leaders formed their own county to hide the illegal activites.
Ad blocker interference detected!
Wikia is a free-to-use site that makes money from advertising. We have a modified experience for viewers using ad blockers

Wikia is not accessible if you've made further modifications. Remove the custom ad blocker rule(s) and the page will load as expected.