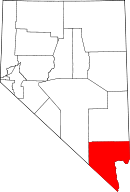 Clark is one of the 17 counties in the state of Nevada. It was created in 1908 from part of Lincoln county. The county had a population of 1,951,269 in 2010, which increased to 2,000,759 in a 2012 census estimate. It is the most populous county in the state of Nevada, accounting for nearly three-quarters of its residents. Las Vegas, Nevada's most populous city, has been the county seat since the county was created. Las Vegas Valley, a 600-square-mile basin, includes Las Vegas as well as the other primary population center, the Wikipedia:unincorporated community of Paradise. Much of the county was originally part of Wikipedia:Pah-Ute County, Wikipedia:Arizona Territory before Nevada became a state. The county was named for Wikipedia:William Andrews Clark, a Wikipedia: Montana copper magnate and U.S. Senator. Clark was largely responsible for the construction of the Wikipedia:Los Angeles and Salt Lake Railroad through the area, a factor heavily contributing to the region's early development. Clark County is today known as a major tourist destination, with 150,000 hotel and motel rooms. The Wikipedia:Las Vegas Strip, home to most of the hotel-casinos known to many around the world, is located not within the City of Las Vegas, but in unincorporated Paradise. Clark County is coextensive with the Las Vegas–Paradise, NV Metropolitan Statistical Area, a Wikipedia:metropolitan statistical area designated by the Wikipedia:Office of Management and Budget and used by the Wikipedia:United States Census Bureau and other agencies for statistical purposes. The county has 8,061 square miles in area.
Ad blocker interference detected!
Wikia is a free-to-use site that makes money from advertising. We have a modified experience for viewers using ad blockers

Wikia is not accessible if you've made further modifications. Remove the custom ad blocker rule(s) and the page will load as expected.