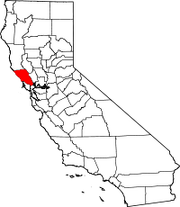 Sonoma is one of the 58 counties in the state of California. It was created in 1850, making it one of the original counties of the state. As of the 2010 census, the population was 483,878, up from 458,914 in 2000. The county seat and largest city is Santa Rosa.

The county has an area of 1,768.23 sq mi (4,579.7 km2), of which 1,575.88 sq mi (4,081.5 km2) is dry land. Sonoma is bounded on the west by the Pacific Ocean, on the north by Mendocino County, the northeast by Lake County, the east by Napa County, the southeast by Solano County and the south by Marin County. Sonoma is one of the nine traditional Bay Area counties.

Sonoma County has two unique locations in Calfornia history: it is the location of the fort ("Fort Ross") built by Russian fur traders between 1812-1841; and the town of Sonoma was the origin of the 1846 Bear Flag Revolt, where California declared independence from Mexico and briefly existed as an independent country. The current state flag is a slight revision of the symbol of the revolt.
Ad blocker interference detected!
Wikia is a free-to-use site that makes money from advertising. We have a modified experience for viewers using ad blockers

Wikia is not accessible if you've made further modifications. Remove the custom ad blocker rule(s) and the page will load as expected.